your team
---
Werner Welten - flying is my lifestyle
---
Pilot: Pierre-Alain Hayoz
I'm paragliding instructor since 2004 and I like to climb, alpinism, ice climbing, hike and fly, and also I'm adventure and documentary film maker:
---
Pilot: Chrigel Füegi - Nur fliegen ist schöner!
---
Pilot: Rick Strenner
I have been a paragliding addict since my first tandem flight in the Drakensberg Mountains of South Africa, in 2004. Since then, I have travelled the world to fly including the UK, Slovenia, Bulgaria, Switzerland, France, Spain, Austria and as far as Canada and South Africa. To me, if you want to travel and see new countries, then the best view is from up high!
There is only one thing that I enjoy as much and that is sharing my passion with others. In 2013, I became a paragliding instructor in the South Downs region of England. I have guided many students towards their own solo paragliding licence. I have passed rigorous exams after years of training, both in the UK and Switzerland, to become a dual-licensed tandem guide.
In the winter season, I spend most of my time teaching adults and children to ski, another one of my passions.
The peaks of the Swiss Alps feel like home and now I would like to show you them in a safe, comfortable environment, at least in my perspective!
---
Pilot: Simon Heimgartner - live your dreams and fly away !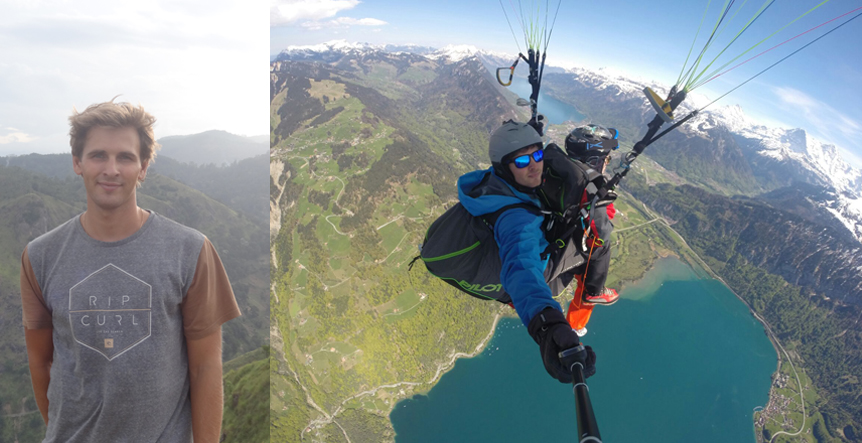 ---
Pilot: Toni Zurbuchen
---
Richi Dean-Feissli
Richi and Liam, maybe one day he could be your pilot
---
Driver: Monica - best driver in town
---
our air conditional van
Pick up at your Hotel in Interlaken